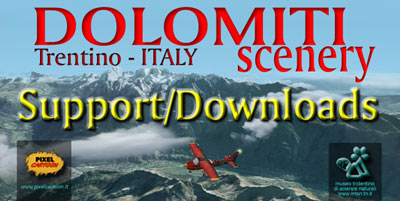 SUPPORT AND DOWNLOADS SECTION
In this section you will find for immediate, free download, future upgrades of this scenery, patches and FAQs. Before contacting any support team member, please visit our FORUM PAGE, where there are current discussions about this product and you will probably find your answer.
FLIGHT SIMULATOR 2004 COMPATIBILITY
updated 22 October 2004

This scenery is perfectly compatible with the new Microsoft release FS2004.
There is only an additional configuration file that has to be added to your FS2004 setup:

1) Please download the file patchFS2004.zip from our server containing 3 bgl files
2) Unpack them in the directory where you installed DOLOMITI scenery
(...dolomiti/scenery)
At this point you need no more to disable WESTERN EUROPE (as stated in see instructions in the CD).
Just select Mattarello (LIDT), Italy, as your starting airport from the flight generation panel of FS2004.

SETUP ERROR at about 88%

In some rare cases we found that with Windows FAT32 file systems the
setup program will stop at about 88% of installation.

There is a limit to the number of files to be contained in a particular folder.
This means that when you try to install the COMPLETE/FULL installation
of the scenery (both night and day textures) the setup could say that it can't
continue after about 88% of installation.

We are sorry but this is a Windows limitation (our complete setup
option is made of 17592 files with long filenames) so the only thing you can do
for now is to install ONLY the DAY TEXTURES, (which are the best part of the scenery).
If you use Windows XP/2000 you can upgrade to NTFS file system to overcome
this windows limitation.

We are working on a different setup procedure, but for the time being
the only solution is to upgrade to NTFS or use only the DAY TEXTURES.
ATTENTION: it is possible to convert a file system to NTFS without loosing
data on your PC, but we recommend to backup your system
before doing this. Remember that the NTFS file system works only
with Windows XP, Windows 2000 and Widnows NT machines, so if you
have a dual boot machine you have to change ONLY the partition where
the DOLOMITI SCENERY was installed, but this partition will be no more
available from Windows95/98/Me o.s.
REMEMBER THAT THIS IS A LIMITATION AND ERROR ONLY IN RARE SYSTEM CASES,
NOT WITH ALL FAT32 FILE SYSTEMS. ANYWAY THIS SCENERY WAS CREATED
WITH A DAY VIEW IN OUR MINDS, AND THE NIGHT TEXTURES ARE
ONLY AN OPTIONAL, A VERY NICE BUT ALWAYS OPTIONAL FEATURE.

ERRORE di SETUP a circa l'88%

In alcuni rari casi abbiamo evidenziato che con il filesystem FAT32 il
programma di setup si blocca all'88% dell'installazione circa

C'e' un limite al numero di file che possono essere contenuti in una directory di Windows.
Questo significa che quando provate a fare una installazione FULL (sia texture
diurne che notturne) il programma di setup potrebbe bloccarsi all'88% circa.
Siamo spiacenti ma questo è un problema intrinseco di Windows e del suo filesystem
(l'opzione di setup FULL è composta da 17592 files con nomi lunghi) quindi
la sola cosa da fare in questo caso è scegliere l'installazione delle SOLE TEXTURES DIURNE
(che è la parte migliore dello scenario...).
Se utilizzate Windows XP/2000 potete passare al filesystem NTFS per evitare questa
limitazione di Windows.

Stiamo lavorando su un differente tipo di setup, ma al momento la sola
soluzione è fare un upgrade a NTFS oppure usare le sole DAY TEXTURES.
ATTENZIONE: è possibile convertire un file system in NTFS senza perdere
i dati contenuti sul proprio Hard Disk ma raccomandiamo di fare un
backup di sistema prima di tale operazione. Ricordate inoltre che
tale file system funziona solo con Windows XP/2000 ed NT, così se
avete una macchina con dual boot dovrete cambiare a NTFS SOLO la partizione
dove è installato lo scenario DOLOMITI, ma questa partizione non sarà più
disponibile/visibile da Windows 95/98/Me

RICORDATE CHE QUESTA E' UNA LIMITAZIONE SOLO PER RARI CASI DI SISTEMA,
NON PER TUTTI I FILE SYSTEM FAT32 E CHE COMUNQUE LO SCENARIO
E' STATO CREATO CON IN MENTE LA VISIONE DIURNA, E LE
TEXTURE NOTTURNE SONO UN OPTIONAL, UN BELLISSIMO
OPTIONAL MA SEMPRE TALE



For any support/troubleshooting concerning installation, malfunctioning, and flight simulator options please contact Stefano Oss

For sales information, quantity discounts and reseller options, please contact Sales department