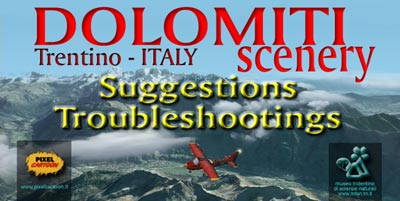 SUGGESTIONS/TROUBLESHOOTINGS
This scenery requires a LARGE amount of video memory: the better are the physical characteristics of the adopted video card, the better will be the visualization of the scenery of terms of speed, depth of details, colors and so on.
It is also possible to attempt an optimization of performances of the used video card. More specifically, one can try to modify the parameters in the [TERRAIN] section of the file FS2002.CFG found in the root directory of the flight simulator program. BE CAREFUL: do not change such parameters before getting enough reliable information (in specialized internet sites devoted to video card tweaking procedures). "Wrong" parameters could lead to lock-ups of the card when used by the flight simulator program.
The scenery takes quite a long time to get loaded by flight simulator (even a couple of minutes, depending on the used hardware): this is normal since the whole scenery uses 17,000 (seventeen thousand) texture files. Flying at night, dusk or dawn will require even longer loading times. Before complaining, look at the results ...
Should it happen that the textures of the scenery are gray (with no colors and details): the active season is NOT summer, and you HAVE to set the simulator season to summertime, or your video card has little RAM memory (smaller than 16MB). You cannot expect too much ...
You won't get an heavy AI traffic in the scenery region: Mattarello is a small, relatively quite airport ... anyway, by using as elsewhere explained the traffic.bgl file, some regional flights to/from Venice, Milan Linate, Verona and Innsbruck can be observed.
Should it happen that close to the major lakes of this region mountains/hills get a strange shape (very steep sides, erroneous alignment of textures and elevated terrain), this is most probably caused by the fact that the area "Southwestern Europe" area has NOT been disabled as already explained in the setup help section of this product. Disabling this area does NOT imply a permanent change in the Flight Simulator files so you can safely enable/disable such an area whenever requested.
The most important parameters used for a correct configuration/performance of FS2002 with this scenery are found in the section SETTINGS/DISPLAY. Such parameters should be changed by accounting for your hardware performance. A particularly meaningful parameter is "terrain mesh complexity" which basically changes the space depth of elevation data.

Further information, upgrade, details for this scenery can be found in the support/download section.